By Our Reporter
Entebbe International Airport: After acquiring Air Operator's Certificate (AOC), Uganda Airlines made successful familiarization flights to Nairobi, Johannesburg South Africa, Juba and Bujumbura before later announcing overhaul flights to London, Dubai, Mumbai, Guangzhou among others starting this September.
READ ALSO: Ugandan Airlines Demo Flight To S.A Successfully Lands At Oliver Tambo
On August 28, at exactly midday, the brand new A-330neo made its maiden commercial flight to Oliver Tambo Airport, Johannesburg with 63 passengers and returned the same day with 53 passengers to Kampala. We touched ground around 10:45pm.
Among the first passengers to grace the 'new-kid on the block', among other high-level dignitaries, were two senior UN peacekeepers, Mr and Mrs Ruben Nel and Landa Nel respectively, overseeing peace missions in the East African region, specifically handling Uganda, South Sudan and DRC. The couple visibly looked like they were enjoying every bit of the moment from the aircraft itself to foods, drinks and the comfort inside. Our spy even peeped at them while they kissed and fed each other as they wished themselves a safe trip.
But without wanting to 'fix' words in their mouth, our reporter Andrew Irumba who flew with them decided to seat with them down to get their feel about their own experience aboard an Uganda Airlines aircraft and below is how it all went…'
READ ALSO: Uganda Airlines Tightens Belt On Fight Against COVID-19, Announces Fresh SOPs
Our Reporter: Hi, how are you guys?! You surely look like you're enjoying every moment! I'm Andrew Irumba, an investigative journalist with TheSpy Uganda, an online newspaper..(Introduced himself as he passed on his business card).
UN Couple: Ooh yeah indeed! Nice meeting you Andrew…(They responded as they also introduced themselves)…. We're enjoying the newest tech on the land, new everything, including the cabin crew for A3300-neo. It's actually amazing!
READ ALSO: D-Day! Uganda Airlines To Give Nairobi Travelers A Thrilling Taste Of Brand New A330-800s Tonight
Our Reporter: Nice to hear that, so tell me, what are those unique experiences this new aircraft presents to you guys that you find quite worth noting….
UN Couple: Quite many, first is the customer care. As you see the crew team is really trying their best to ensure everyone is fine. You can see from eats and drinks etc. Whereas other flights can serve you about 30-40minutes into the flight, these guys started serving everyone as soon we took off the ground. Also, we note that this aircraft has bigger space for leg room. In the old crafts, you find very squeezed space that by the time you reach, your legs are paining because they're not free enough. Thirdly, look at the seats, the leather is excellent and each with a wide HD screen behind to watch movies…So we believe this is fantastic and we surely will be flying the Cranes quite often. So we want to ask Ugandans to support this project, you know it's an amazing thing to support your country at all fronts…
Our Reporter: That's nice of you! beautiful observations really. Enjoy your flight…
READ ALSO: Uganda Airlines Goes For First Long-Haul Routes After Acquiring AOC
Our reporter reached out to more passengers and kept roaming the entire craft as they flew, and it wasn't long before he landed on another fine businessman, Craig Berger, a renowned International businessman dealing in fuel and lubricants supplies to Uganda, Kenya, Tanzania, DRC, South Africa and the UAE countries under his company, Prime Regional Supplies Ltd based in Wandegeya Kampala for Uganda branch. Burger found the National Airlines' timekeeping and the pricing a plus for him. Read below: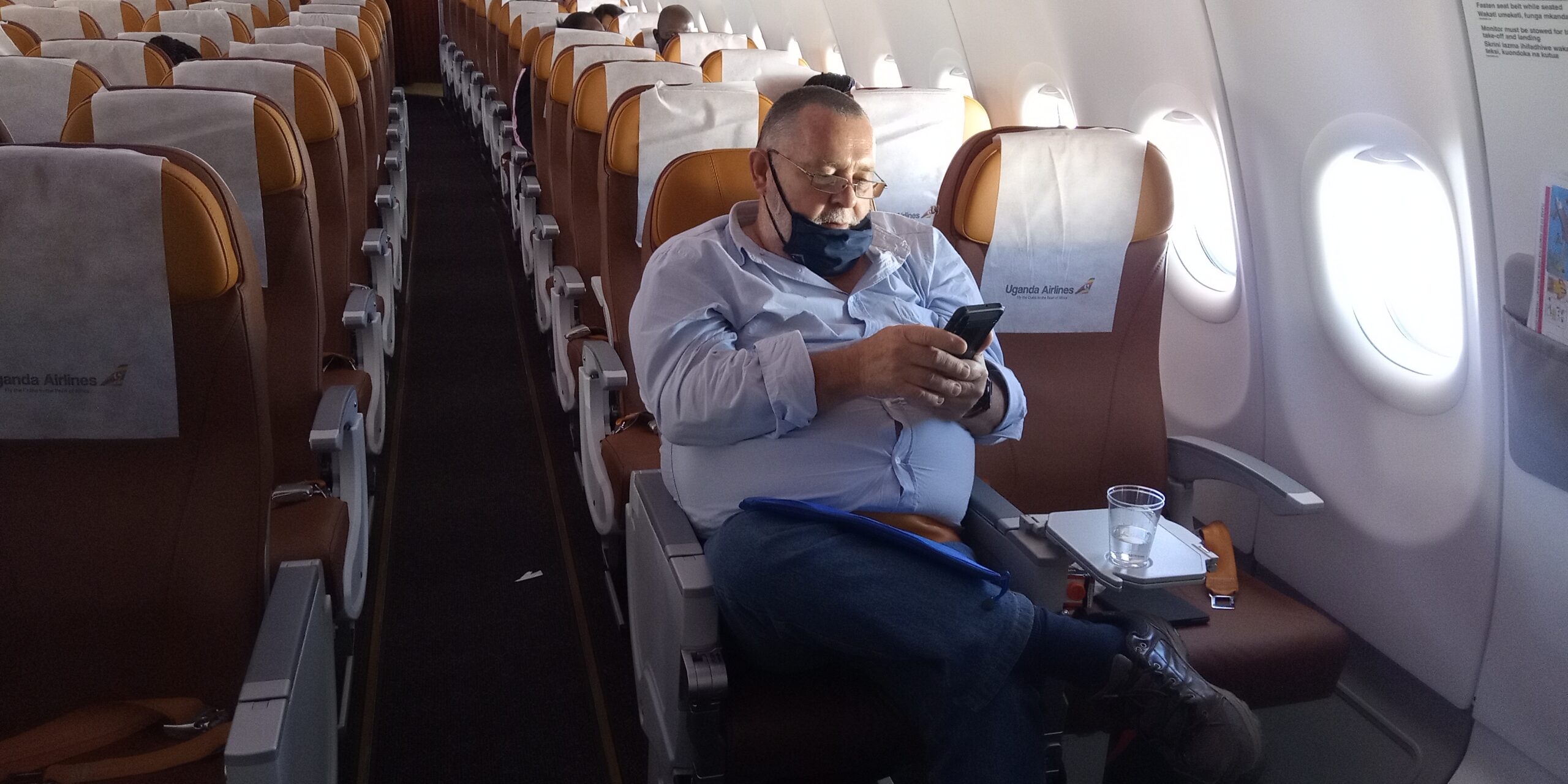 Our Reporter: So tell me Mr.Berger! What's your experience so far? Will the national carrier rely on to keep growing?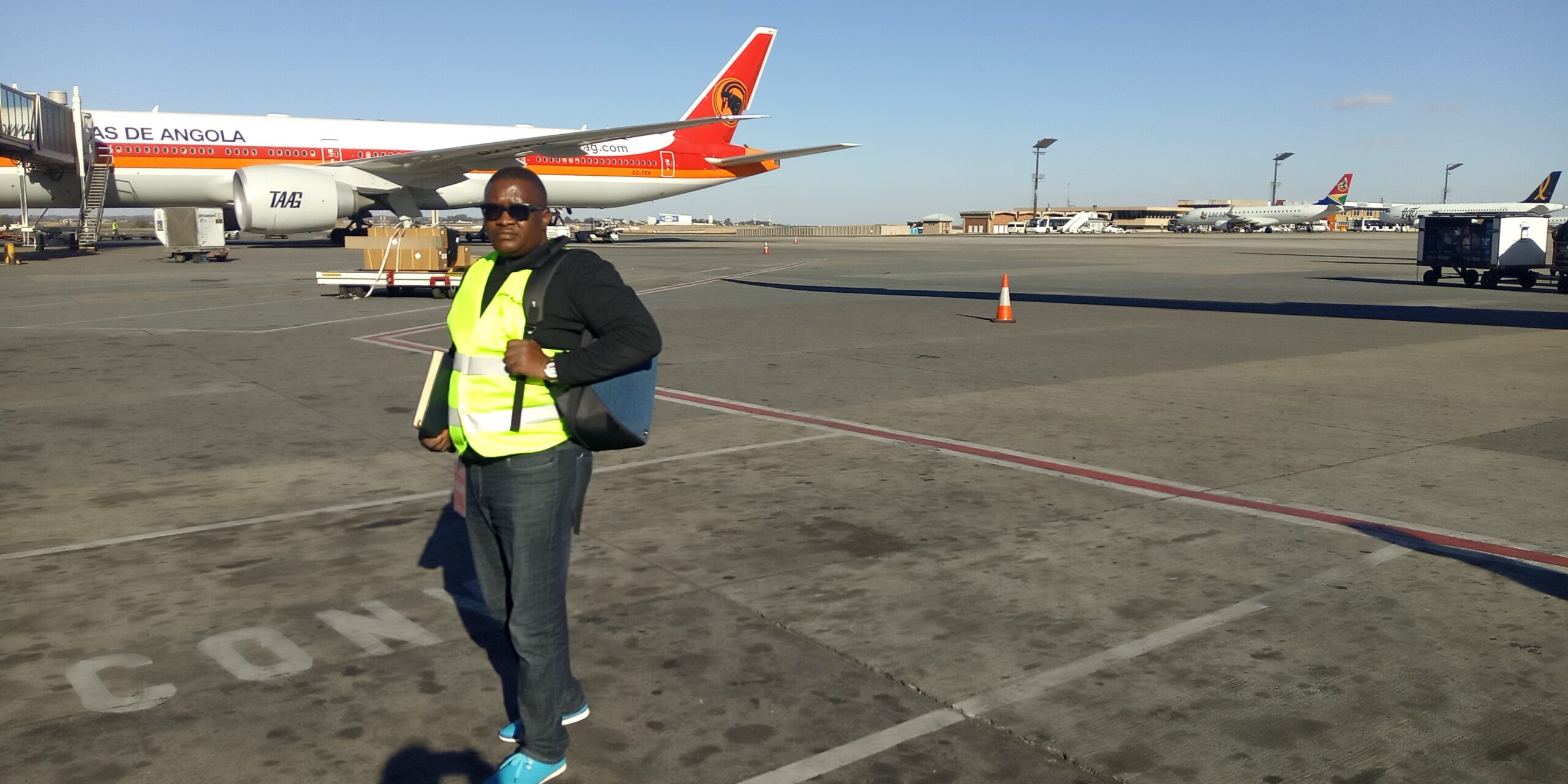 Berger: First of all, don't call me 'Mr', just call me Burger, that's okay for me! But yes, this is a great achievement for Uganda, and we should be able to support the guys. The services are good, timekeeping is also key to us business people because if you don't catch up with the agreed time on the other side you will fly and waste money in Hotels trying to re-schedule the missed appointment. So timekeeping is key, customer care etc. And I see senior guys I have always flown with before in other planes are back here home trying to build their own, which is quite good.
READ ALSO: Transport Minister Fred Byamukama Officially Hands Over AOC Certificate To Uganda Airlines To Start Overhauled Flights
Our Reporter: So..what about the fares? Does Uganda Airlines come with a difference in terms of pricing? Because that to a businessman is important too.
Berger: Ooh yeah yeah,ofcourse! I mean, I've saved quite a reasonable amount compared to usual charges with other flights, yet same services, or even better, which is a good thing too.
READ ALSO: Another Win For Uganda As The National Airline Finally Gets AOC Certification For AirBus A330-800NEO!
I actually see that Uganda airlines may force some players to revise their fares down-wise, that's if they've not already, because I checked on some company's fares to Nairobi and other regional flights are already reduced. So the Cranes, other than being in business themselves, they will also have a role in stabilizing fares that have somewhat been a bit unfair. That's the beauty of the competition. So one will soon have better deals and choices to make.
About The Cockpit Crew And How Our Conversation Went Along To Johannesburg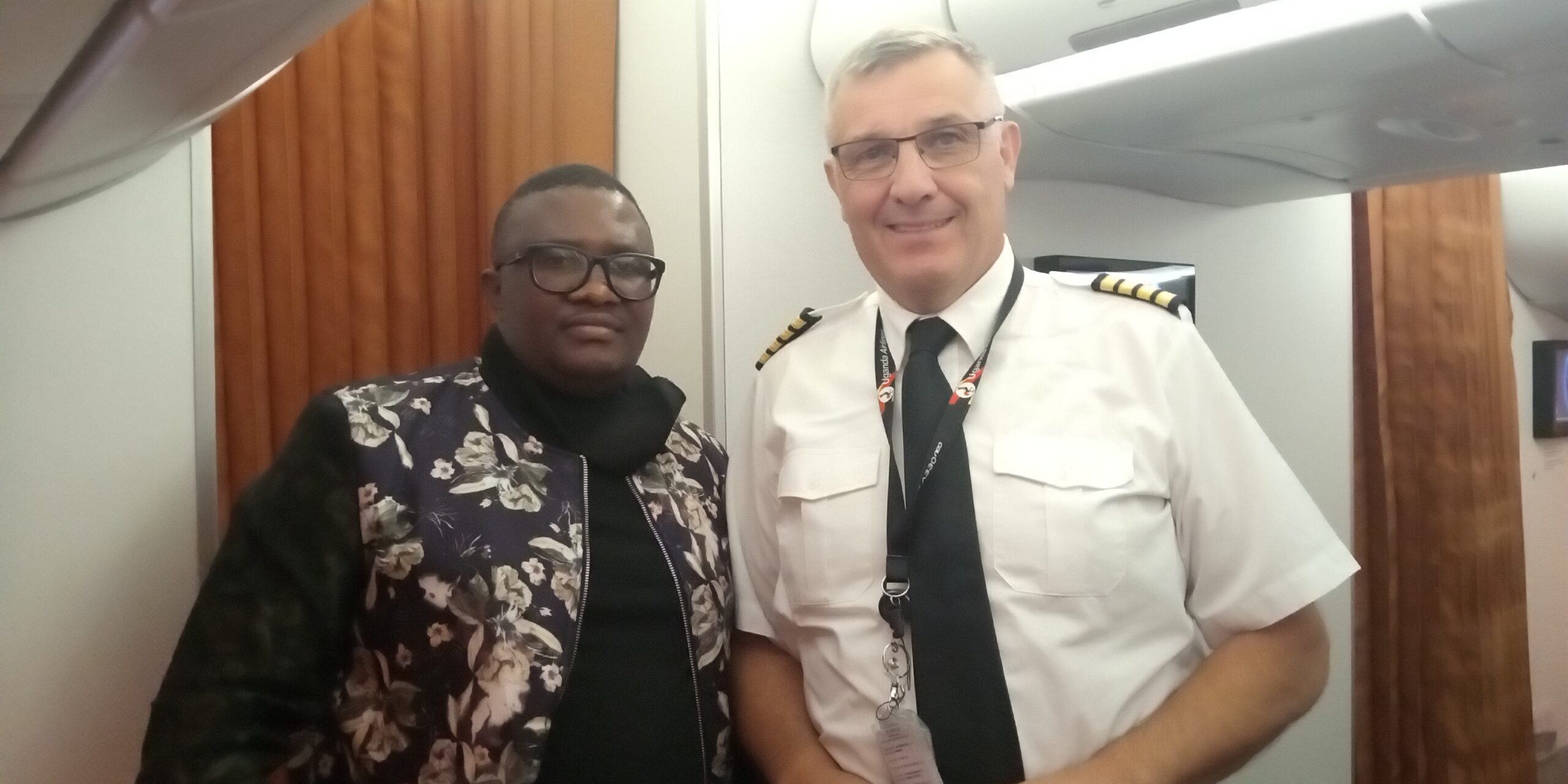 The cockpit crew consists of two people on short-haul flights, the commander and the first officer. At the briefing before the flight, the crew agrees on who will be the "Pilot flying" and the "Pilot monitoring" on it. So it's simple, the former flies the aircraft while the latter watches and supports him. However, on Saturday, Aug 28, those who flew with us and got a chance to peep in the cockpit like me, must have realized three guys in there. I reached out to their head in that particular flight, flight Captain Pete Thomas from The United Kingdom.

Pete explained that alongside him as the flight captain, he also had Captain Ivan Mecklenberg from Peru, 1st officer Okolo Chindu from Nigeria and officer Drichi Martin, a 34-year-old from Northern Uganda. I later learnt from flight Captain Pete that Uganda's Drichi was on an observation mission, whose only job is 'eyes on hands off'.
READ ALSO: Don't Move A Muscle, Book Online!- Uganda Airlines Introduces WhatsApp Number For Customers To Book Flights In Record Time!
"You see Andrew, I'm from the UK, we're here to build Uganda's local capacity, pass on knowledge and experience to the young guys like Martin then we let you guys run your show. So Martin will be among those young, but brainy pilots that we will hand over to when our time is up," Pete explained.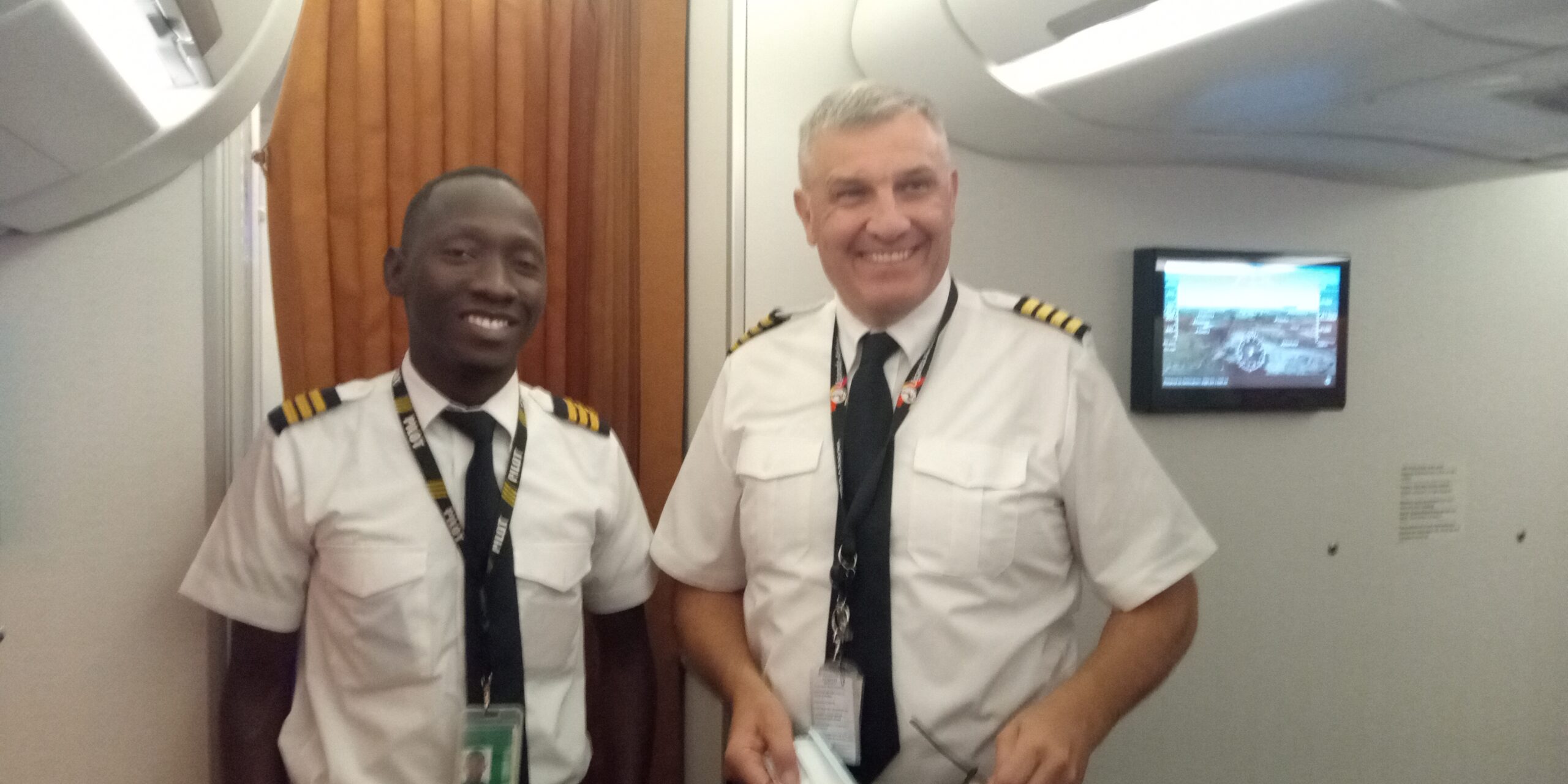 Capt. Pete Thomas (R) With Ugandan Young Pilot, Officer Drichi Martin Who Was On Observation Mission. Also learnt from Pete that we were flying at an altitude of 40,000 feet (approx.12km) above sea level. We spent 3hrs and 37minutes airborne. Our flight was No. UR 710 (Uganda's call sign).
READ ALSO: Uganda Airlines Go For More Regional Services Ahead Of Dubai Launch With A330 Airbuses
When we landed in SA, we were officially welcomed and received by Ms. Monica Rubombora, Uganda Airlines' and GSA resident representative in South Africa, together with her Sales and Marketing teammates. "We're very glad to receive you here today and the plane of course! Even without much advertising the first commercial plane, we got overwhelming bookings and many well wishes here in SA," revealed Rubombora as they handed over cake and Uganda flag to the Ugandan team.
 The Cabin Crew And How Our Chat Went Down: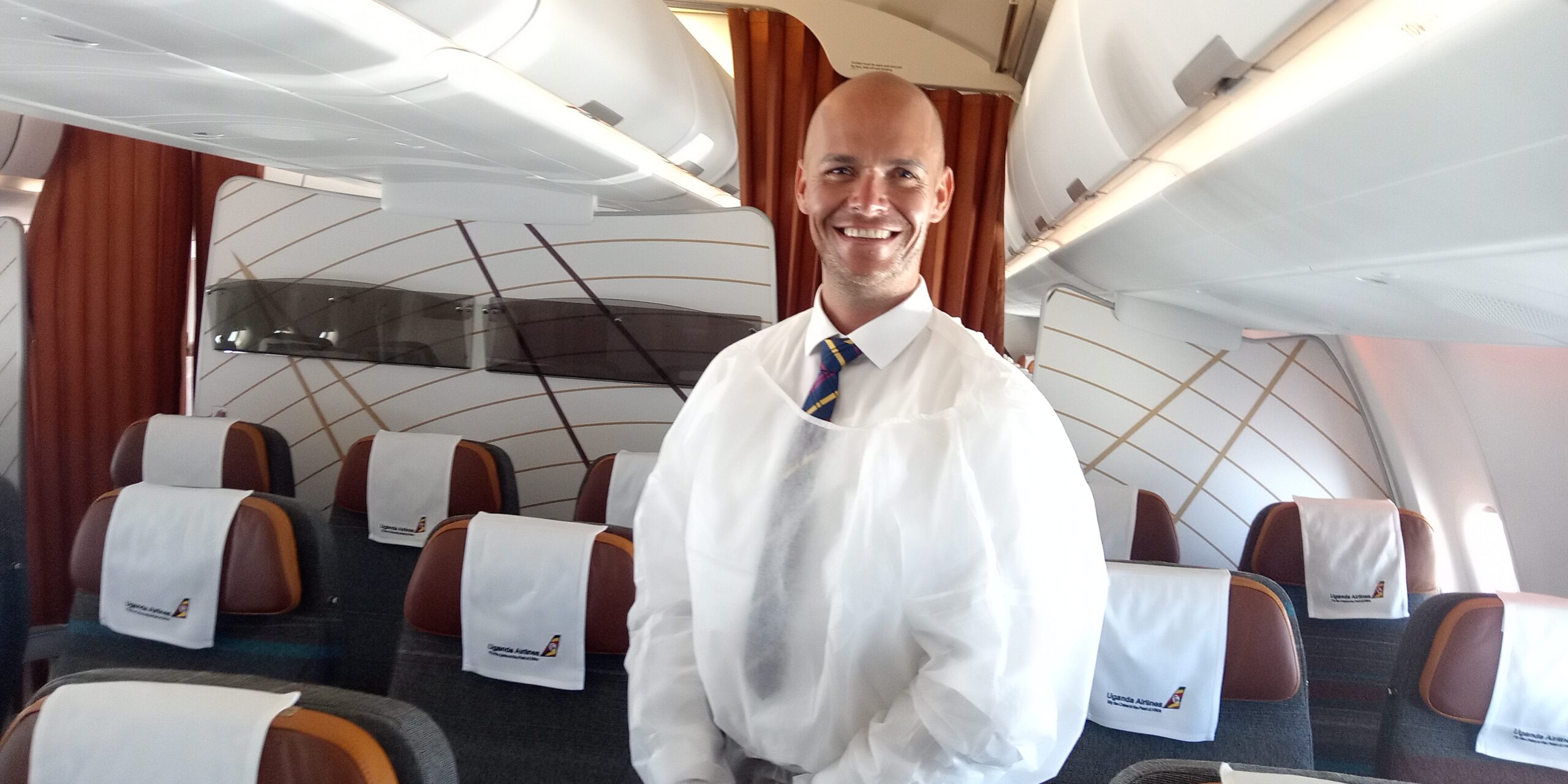 I don't know about yours, but our flight to SA had up to 9 young, beautiful and handsome female and male cabin crew, strategically positioned in both rows to ensure timely customer care and uniformed demonstrations on safety information while taking off. To show you that I really took notes almost on every cabin crew member, I even remember their names and faces without looking into my diary, and here we goo…Ricky Pretorias, who is manager cabin crew (inflight Manager) and hails from South Africa, Kashillingi Sheillah (Ugandan), Esme Eloff (SA), Daniel Mugabi (UG), Nina Wamala (UG), Isabela Namubiru (UG), Milly Bayiyana (UG), William Musoke (UG), and Kyaligonza Mark. You see I know them already in one day?!
To understand the cardinal role of a cabin crew manager in a flight, our reporter sat down Mr.Ricky Pritorias in the Executive section of the aircraft as we were airborne and noted the following;
Our Reporter: So Mr Ricky, I want to enter into your day's roles as a cabin crew manager, what should be my main role here today?
READ ALSO: Ever Challenged But Never Equalled! Ugandan Airlines Announces Commercial Flights To Dubai In UAE
Ricky: Okay, ensure the following;
Conduct safety briefing to all passengers before takeoff and let them understand what to do, how to do it and where to pass in case of emergency. You even show passengers where you've placed their parachutes and airbags in case they're to jump out of the plane in case of emergency. With my crew, we go a notch higher and demonstrate how to put on that safety equipment, where to place life jackets for proper oxygen supply.
Give flight details before take-off i.e number of passengers, passenger special attention (if there's a passenger who needs special attention maybe they're sick or allergic to something etc), the cabin crew has to know so they pay extra attention
Announce the services passengers should expect during flight, for example, explain whether they will have breakfast, lunch, Dinner and the type of drinks available which in our flight language we call 'Food, drinks and bar'. Explain whether you will open the bar, and what drinks are there..beers, wines, etc, you explain to them. It helps them in determining what to expect and not over expect and end up getting frustrated
Monitor your crew members' performance during flight and ensure they're actively attending to passengers' needs.
But also, as a cabin crew manager, I have to ensure that all my crew members have legal documents before they board, like passports, Covid-19 tests certificates, their health statuses (are they sick? Did they have enough sleep the previous night? Do they have any health issues?) All that is your job if you want to take over from me in this flight. The wellbeing of passengers, cabin crew team and the cockpit is in your hands, of course together with the pilot as the one in charge of flying us safely, but the rest is you to ensure the occupants are comfortable.
In case of any information that the pilot must know about the flight, it's the role of the crew manager to give a report, not everyone. In fact, only the crew manager has permission to access the cockpit during flight. The rest are supposed to communicate to the pilot through the crew manager, unless it's extremely inevitable. So Mr.Andrew, the moment you leave the ground, your life is in my hands and those of the pilot.
Finally, lest I forget, you're the chief announcer of every information, before we take off, during the flight and while landing. You must announce how high we're going to fly, the expected time of arrival, the expected checkpoints we're to go through on arrival into another country and the general security information your passengers should pay attention to when they land in that country.
As you have realized, before landing in SA, I had to inform passengers that the crew was going to fumigate the plane before landing as a health requirement in SA. So the passengers are aware when they see us fumigating, and for them not worry. In SA, it's a requirement to fumigate every plane before landing to avoid bringing in the country insects like mosquitoes among others. They can deny you to land if you don't follow those protocols keenly. So the cabin crew manager must ensure all protocols of a given country are followed to the latter.
Ricky has 15 years of experience, having worked with so far three airlines worldwide, i.e Abudabi's Etihad, South Africa's Nationwide Airlines and now Uganda Airlines. I thank you.
Below is a selection of more amazing photo moments for your pleasure, enjoy…..