By Spy Uganda
Kampala: Defined by its ever green environment full of a conducive air from the flourished trees housing the hotel, Kabira Country Club has added Mongolian Fridays on its luxurious events list in a bid to quash stress off from its loyal clients.
READ ALSO: Here Is What Makes Kabira Country Club Luxuriously Unique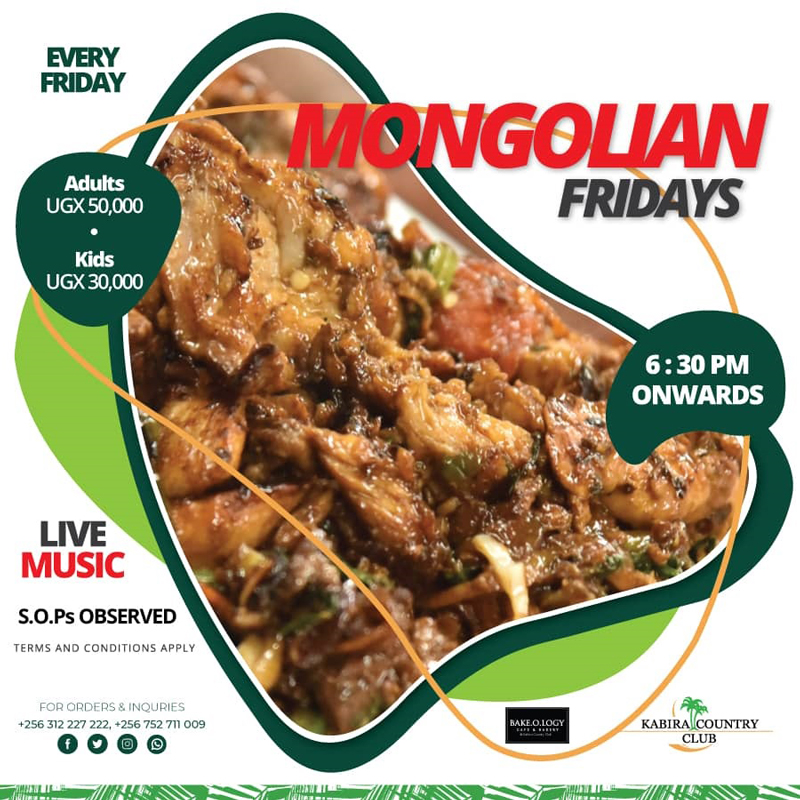 READ ALSO: Kabira Country Club Unveils Romantic, Sumptuous Valentines' Special Retreat Holiday,Only Miss Out If You Don't Love That Valentine
Kabira Country Club has a couple of other events including sip and dip booze bonanza event every weekend that leaves most businessmen and women refreshed and served to satisfaction.
Just like its name "Kabira" literary meaning "Little Forest", the hotel is surrounded by tropical species of flora and birds that are heard throwing trumpet lyrics to clients who normally drink in a well-distanced manner in a bid to curb the transmission of the novel coronavirus.
The hotel has a pub that overlooks the swimming pool and the courtyard extending from the restaurant, bar and coffee shop, giving a relaxing outdoor informal dining experience. It's proximity to the playroom and the swimming pool makes it ideal for all to dine.
READ ALSO: Is Your Weekend Boring? Kabira Country Club Has For You Sip & Dip Booze Bonanza
The hotel's restaurant has a variety of drinks call it multi-cuisine with continental, African and Indian drinks located in the ground floor where calmness is the deal of the day.
For reservations, reach the hotel via its location in Bukoto, old Kira Road or at +256-312-227-222/+256-752-711-009.