By Spy Uganda
Kampala: Responding to Electoral Commission Chairman Simon Byabakama's letter dated November 26th 2020 on alleged blockage of presidential candidates' campaigns, IGP Ochola has spit venon ordering him to first note the key particulars of the letter before addressing it. 
READ ALSO: Sleepy EC Chairman Byabakama Finally Wakes Up, Writes To IGP Over Police Brutality Against Opposition Presidential Candidates
In his letter responding to Byabakama, Ochola noted that he can't respond to EC's allegations instead he can only advise Byabakama to re-write to him an authentic letter with dates of campaign blockings, names of candidates, venue, among other essential particulars.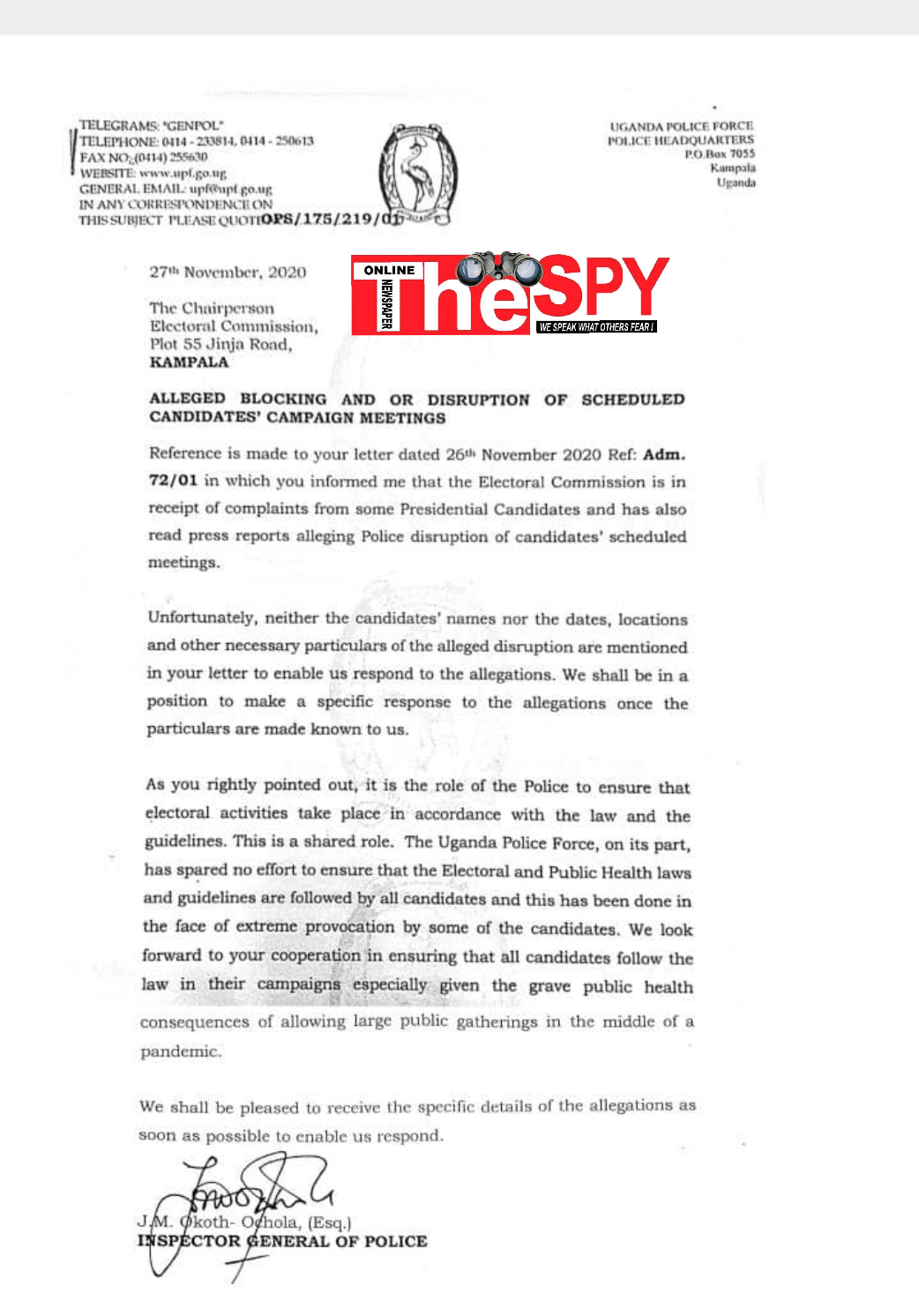 Read Full Ochola's Letter Below;
READ ALSO: Furious Kadaga Summons 'Slippery' EC Boss Byabakama Over Contradicting Poll Dates
"ALLEGED CANDIDATES' CAMPAIGN MEETINGS DISRUPTION OF SCHEDULED
Reference is made to your letter dated 26th November 2020 Ref: Adm. 72/01 in which you informed me that the Electoral Commission is in receipt of complaints from some Presidential Candidates and has also read press reports alleging Police disruption of candidates' scheduled meetings.
READ ALSO: EC Chairman Byabakama Wrote A 'Shy' Love Letter To IGP, Not Serious-Gov't Spokesperson Opondo
Unfortunately, neither the candidates nanes nor the dates, locations and other necessary particulars of the alleged disruption are mentioned n your letter to enable us respond to the allegations.
READ ALSO: Not Convinced: Parliament Grills EC Boss Byabakama, AG Byaruhanga Over Separate Presidential, Parliamentary Election Dates
We shall be in a position to make a specific response to the allegations once the particulars are made known to us. As you rightly pointed out, it is the role of the Police to ensure that electoral activities take place in accordance with the law and the guidelines. This is a shared role.
The Uganda Police Force, on its part, has spared no effort to ensure that the Electoral and Public Health laws and guidelines are followed by all candidates and this has been done in the face of extreme provocation by some of the candidates.
READ ALSO: Quit Office & Save Ugandans Dying Over Your Incompetence-Parliament Puts Stressful EC's Byabakama On Tenterhooks
We look forward to your cooperation in ensuring that all candidates follow the law in their campaigns cspecially given the grave public health consequences of allowing large public gatherings in the middle ofa pandemiC. We shall be pleased to receive the specific details of the allegations as soon as possible to enable us respond."