By Hanning Mbabazi
Masaka: Msgr Serverus Jjumba was consecrated as the Bishop of Masaka Catholic Diocese on 6 June 2019. He replaced Bishop John Baptist Kaggwa who was at the helm of Masaka Diocese for more than twenty two years. The latter clocked 75 on March 23 2018 and submitted to the Pope his resignation letter.
According to an April statement issued by Most Rev. Luigi Bianco, the Apostolic Nuncio in Uganda, the appointment of Msgr Jjumba came after the Pope accepted the resignation of Bishop Kaggwa.
" The Apostolic Nunciature has the joy to announce that the Holy Father, Pope Francis, has appointed Rev. Mgsr Serverus Jjumba as the new bishop of Masaka, while accepting the resignation of the pastoral care of the diocese presented by Rt Rev. John Baptist Kaggwa upon having reached the age limit," the statement dated April 16 reads in part. Rev Bianco commended Bishop Kaggwa for his dedicated service to the Church.

The consecration ceremony was held today at Arena playground in Kitovu, Masaka and President Yoweri Museveni has been represented by the Vice-president Edward Kiwanuka Ssekandi.
Among other leaders who attended the function was the Katikiro of Buganda Charles Peter Mayiga, Opposition politicians, and other religious leaders from different regions of the world.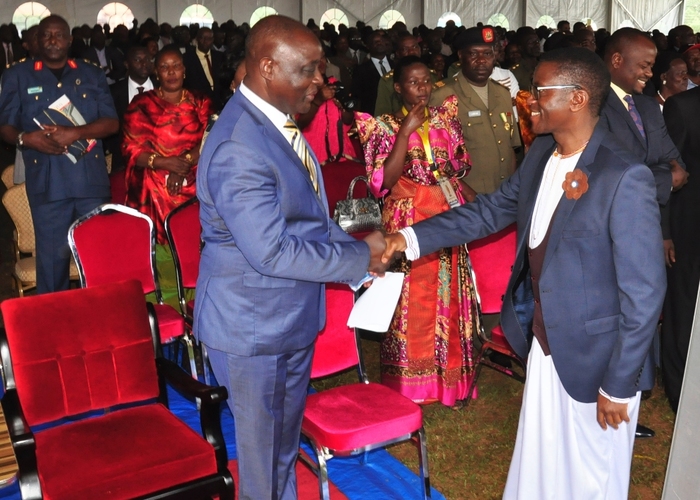 Who Is Serverus Jumba
Serverus Jjumba was born on 2 July 1962 at Katinnyondo, Kyannamukaaka, Masaka District, in the Buganda region of Uganda. He was appointed the bishop of the Roman Catholic Diocese of Masaka on 16 April 2019 and consecrated to the congregation on 6 June 2019

Education
He attended St. Augustine's and St. Paul Primary School, Kitovu, Masaka. He then joined Bukalasa Minor Seminary, in Kalungu District. Later he studied at St. Thomas Aquinas Major Seminary, at Katigondo, also in Kalungu District. He then completed his theological studies at St. Mary's National Major Seminary, at Ggaba, in Kampala, Uganda's capital city. He also has a Masters of Education degree and a Diploma in Religious Studies, both awarded by Makerere University.
Priesthood
He was ordained priest on 20 June 1992, at Masaka, when he was 29 years and 11 months old. He served at Bikira Parish from 1991 until 1993. He was the formator and treasurer at Bukalasa Minor Seminary between 1993 and 2000. In 2000, he was appointed as the treasurer of the Catholic Diocese of Masaka, serving in that capacity until 2014. From 2014 until 2019, he was the Vicar General of Masaka Diocese