By Spy Uganda
Let's begin this way; TVs pay shs12,000,000 (twelve millio) per month to Signet to carry them into their free-to-air platform. In simple mathematics, there are about 40 TV channels in Uganda which translates into shs480,000,000 (four hundred and eighty million per month) and shs5,760,000,000 (five billion, seven hundred and sixty million per year).
Now, that's not the problem of the National Association of Broadcasters (NAB). Their problem is the fact that a government entity has for years been sucking these colossal sums of money from its members on the pretext that it would carry them and give a signal to their clientele, the viewers, which they've failed to fulfill not for days, but for years.
To add salt to the injury, according to the NAB General Secretary, who doubles as Head of Radio programming at Nation Media Group (NMG), Joseph Beyanga, Signet management ignored to respond to the many letters they wrote to them begging for their attention.
"Those guys have not only taken our money with impunity but even a simple respect to respond to your client's communication has been as hard as an elephant walking on water," Beyanga reportedly told NAB Exco-members last week in a meeting that was held at Forest Cottages Naguru.
As a result of the above, the Association inked a letter on 30th January 2023 copied to the Ministry of ICT and UCC informing its members to halt any payments to signet until their issues are sorted.
The purpose of this letter is to inform all our members and advise you to halt any payments to signet until the issues and concerns surrounding the quality of the services offered have been addressed," partially reads the NAB's letter to its members.
"We shall keep you updated on all developments and resolutions on this matter," adds the letter.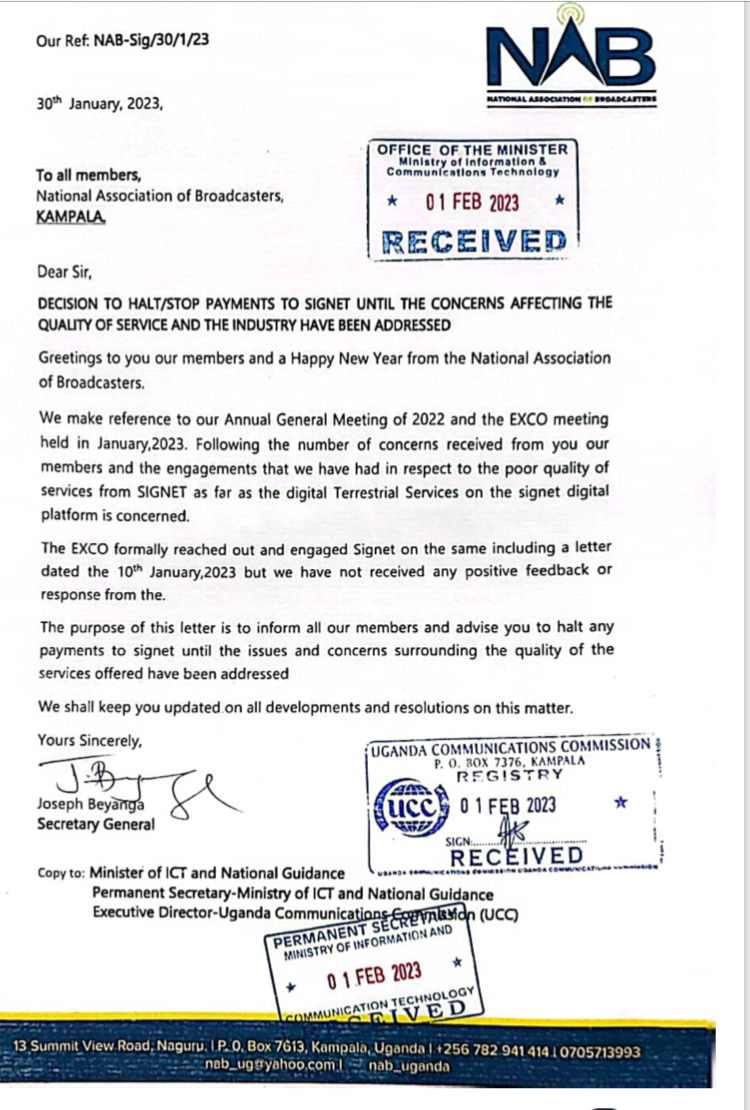 Signet Responds:
When contacted for a comment, Signet's mouth piece Godwin Jaime Byaruhanga told our reporter that Signet and NAB are slated to meet next week to discuss issues of 'mutual benefit'.
"True that, NAB will meet with SIGNET in the coming week to hold discussions of mutual benefit. Then an official statement will be issued by the MD after the meeting," Jaime responded.
When asked about the actual date for the meeting, he responded thus; "Mr. Irumba,when it's set, Mr. Beyanga (NAB SG) will let you know".