By Andrew Irumba
Bishop Samuel Stephen Kaziimba Mugalu of Mityana Diocese has been elected as the 9th Archbishop of Church of Uganda replacing Stanley Ntagali.
But Who Is Samuel Stephen Kazimba Mugalu?
Kaziimba was born to Mr. Besweri Kaddu and Ms. Jessica Nanyonjo on 15th August 1962 at Gulama-Najja Kyaggwe. He was the first son of Jessica and Besweri. "Kaziimba" means a builder. He was named after his Grandfather Kaziimba who served as a Lay-Leader of Kinoni-Kasoga Parish and Gulama-Nyenga Parish.
Samuel grew up with his mother at Makindye who took the responsibility of his primary education in Gakuwebwa Munno Nursery and Lusaka Primary School. Life was a real challenge that he almost failed to get fees for his primary. Kaziimba is grateful to his uncle The Late Emmanual Mukasa who was responsible for his High school education at Seeta College Mwanyanjiri.
He was baptized by Canon Y. Baddokwaya on 22nd April 1973 at St. Luke Kibuye. He just admired his friends who registered for baptism responding to Canon Baddokwaya's visit to their school. He was confirmed by Bishop Misaeri Kawuma on 22nd September 1979 at Namataba Kyaggwe.
His calling started in teaching the Sunday school children in November 1979 after his confirmation. He started his ministry while in secondary school. He joined Madudu church choir in 1980. Later on he served in this church as a catechist from 1981 to 1983.
Samuel Kaziimba got married to Margaret Naggayi Bulya on 7th January who was far away serious with the lord. They are blessed with four boys: Kisakye Moses Mugalu, Muwanguzi Peter Kyeswa, Musasizi Enoch Kaziimba, and Kwagala Joseph Kaziimba. Because of their humble background, Stephen and Margaret heard a call to mentor other less privileged children making a family of 20.
January 1st 1984, Samuel made a personal commitment to Jesus Christ as his savior and lord. His thirst and vacuum for a father was quenched when he was introduced to God the father and to a big family of God's children (John 1:12). His hope was revived and since then, his zeal is to make Christ known by word and example. He always says "God has raised me from a Hut to a state house, From Nowhere to somewhere, From Nobody to Somebody, from Grass to grace, and from shame to fame for the Gospel".
Leadership
He was trained as a Lay-Leader at Baskerville Theological College Ngogwe in 1985 and posted to Lugazi St. Peter's Church.
1988 – 1990 trained at Uganda Martyrs' Seminary (Provincial Certificate), and ordained in December 1990 by Bishop Livingstone Mpalanyi Nkoyoyo. He served as Assistant Vicar at Nakibizzi Parish in 1990 – 1994.
In 1994 – 1996, he completed his Diploma in Theology at Bishop Tucker College, and posted to Katente Parish as Parish Priest (1997 – 2000).
In 1999, he was then transferred to Mukono Cathedral as Vicar in 2000 – 2001. And here he was made Acting Provost of Mukono Cathedral by Bishop Michael Ssenyimba after his Provost Canon Matovu had been made Bishop of Central Buganda Diocese.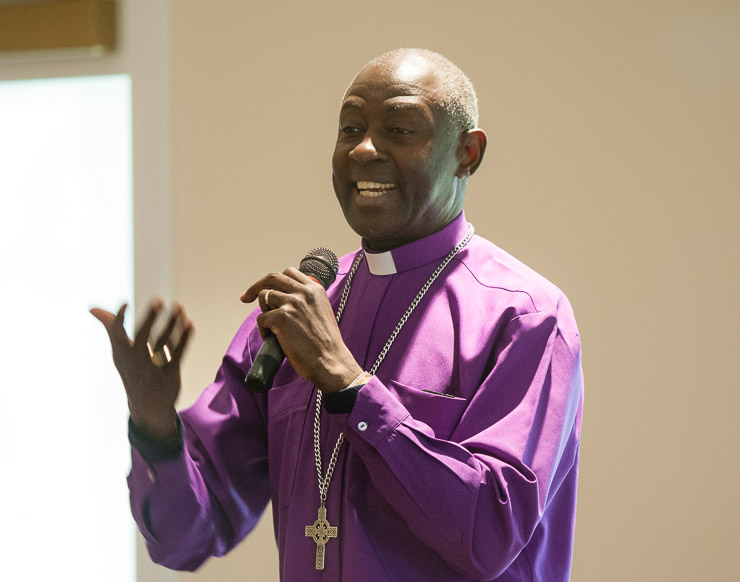 In July 2002 to 2003, he completed his Master's Degree in theology (ThM) at western theology seminary, USA. In 2004 he was confirmed as the provost of St. Philip and Andrew's Cathedral.
2004-2007, Samuel pursued his Doctorate of Ministry at Western Seminary USA, and also made a Canon in 2007 by Bishop Elia Paul Luzinda Kizito.
He became the 4th Bishop of Mityana Diocese on 26th October 2008 replacing Bishop Dr. Dunstan Kopriano Bukenya
Other responsibilities
Ndejje University: Chairperson Consortium and Board of trustees
Words of Hope Uganda Radio Ministries: Board chairman
Patron Mission for All Uganda (MIFA)
Board Member Off-Tu-Mission (2001 to date)
Board Chairman Namutamba PTC
Board Member IRCU
His Vision
"Since he has known Christ, he wants Him to be known by word and example in the power of the Holy Spirit"
The new archbishop will be installed on Sunday, 1st March 2020 at St. Paul's Cathedral, Namirembe.
Past Archbishops
1st Archbishop Leslie Brown, a British missionary and was the first Archbishop of Uganda, Rwanda, Burundi, and Boga-Zaire (1961-1966)
2nd Archbishop Erica Sabiti (1966 – 1974)
3rd Archbishop Janani Luwum (1974 – 1977). Martyred in 1977.
4th Archbishop Silvanus Wani (1977 – 1983). In 1980, Rwanda, Burundi, and Boga-Zaire became a separate, Francophone Province, and Uganda became its own Province.
5th Archbishop Yona Okoth (1983 – 1995)
6th Archbishop Livingstone Mpalanyi-Nkoyoyo (1995 – 2004)
7th Archbishop Henry Luke Orombi (2004 – 2012)
8th Archbishop Stanley Ntagali (2012-2020)
9th Archbishop Samuel Stephen Kaziimba Mugalu (2020…)