By Spy Uganda
Members of Parliament are bound to grow richer during the Coronavirus (COVID-19) pandemic after they reportedly received Shs40m each to help them return the Shs20m which President Yoweri Museveni ordered them to return a few days ago or face the 'music' from the Auditor General. Because some NRM members pleaded with the president that most had already spent the said the money, he decided to bail them by doubling it so they could pay the 'debt' of shs20m and then use the other shs20m to help themselves.
But what's even most shocking is that scribes working at Parliament under their umbrella body Uganda Parliamentary Press Association (UPPA), reportedly also shared the loot as a way of buying their silence about the matter. "Each journal received shs100k to shut their long proboscis," an insider intimated to this reporter.
According to NTV Uganda, some of the money was token for the role they played in ensuring 317 votes were cast in favor of the lifting of age limit in the Constitution way back in December 2017.
Information received from our Spies indicates that cash handouts to the MPs started on Thursday at Kati-Kati Restaurant in Lugogo, which is owned by Singh Katongole, a staunch National Resistance Movement (NRM) stalwart and former deputy Treasurer of the party.
NTV reported that Bukooli Central MP Solomon Silwanyi, who until recently deputized Government Chief Whip (GCW) Ruth Nankabirwa for the NRM caucus chair in Parliament, played a key role in disbursing the said dime.
It is said that dishing out the money was supposed to be done in secrecy but trouble arose on Friday when some of the MPs who had been excluded from the cash bonanza, in the names of Honorables, Theodore Sekikubo, Gonzaga Sewungu, Gerald Karuhanga and Monica Amoding held a press briefing at Parliament during which they spilled the beans.
The disgruntled MPs told journalists during the presser that their colleagues had been receiving the money through Thursday night and Friday.
Amoding argued that it was 'scandalous and morally reprehensible' to condemn MPs receiving Shs20m only to turn around and give them Shs40m.
Gerald Karuhanga vowed to file a petition in Court on Monday such that all the beneficiaries of this 'state looting' can be exposed and brought to book.
On his part, Sekikuubo complained about the discrimination that was exhibited by those who drew up the list of the beneficiaries, noting that some of the 317 MPs that voted to scrap age limit were excluded because of defending Speaker Rebecca Kadaga while endorsing Semujju Ibrahim Nganda's motion to condemn president Museveni last week for ordering MPs to refund the Shs20M.
While appearing on Capital Gang, on Saturday morning, Semujju Nganda said the Shs40m offer exposed the fact that Gen Museveni wasn't genuine in his televised condemnation of the Shs10Bn MPs had shared. Museveni said the self-allocation by the legislature was "morally reprehensible" but Nganda, supported by Abdul Katuntu and moderator Oscar Semweya Musoke, said the Shs40m payout is even more scandalous.
Katuntu said this proves that Museveni's problem with the Shs20m for every MP was not that it was being insensitive to millions of Ugandans who are starving but because it wasn't him (Museveni) that legislators were grateful to as the 'giver of the money' but rather speaker Kadaga.
"It's very clear now, nobody else should be source of money in this country but that one person only. It's the reason the Speaker was being targeted for bashing," said Katuntu, who didn't mention Museveni's name directly.
However, Nankabirwa, the Government Chief Whip, trashed the allegations and said the rumors were being peddled by opposition legislators and some envious NRM rebel MPs who want to demonize the ruling party in the eyes of the public.
Nankabirwa reportedly said that opposition MPs have lot of nugu ( loosely translated to mean 'envy') on the NRM caucus leadership because of this week's motion that the NRM MPs moved to pay tribute to Museveni for leading Uganda well in the fight against COVID-19.
However, Nganda insisted that the NRM caucus leadership used the renewed clashes between Parliament and the Executive to make known to Museveni that they are heavily indebted to even refund the Shs20m to the District Task Forces, hence they needed more money.
On his part, Ofwono Opondo, the government spokesperson assured Nganda and Katuntu that if indeed the MPs shared the money, then it must have come from the NRM party leadership and not the taxpayers' coffers, different from the Shs10Bn MPs had shared which has come from state coffers. "I'm hearing about it the way everyone else has heard but that must be money from the NRM party and not the taxpayer, unlike the Shs10bn we have been criticizing these same MPs about," he said.
NRM MPs Threaten Legal Action
Following the scandalous allegations about legislators sharing Shs40m, we have learnt that some NRM MPs, led by Micheal Tumusiime, who represents Mbarara Municipality, have since sought the advice of Kampala Associated Advocates (KAA) and other law firms for legal and opinion on the possibility of circumventing parliamentary immunity and suing Sekikuubo's group for allegedly defaming them.
The allegedly 'defamed' legislators are also considering legal action against NBS, NTV and other media houses that have since reported about the Shs40m COVID-19 cash bonanza.
Actually, one of the said MPs called the Editor of one of the targeted media houses and pleaded saying thus; "Why are we being mistreated like this by these peddlers of fake news in the opposition and rebel MPs as if it's a crime to support President Museveni and be loyal to him as a party chairman. Why would some of us be in hiding, unable to even live in our homes because we fear money lenders if we indeed had Shs40m?," he cried.
He continued thus; "These reports have put us in more problems because voters started calling presenting their problems as soon as they saw it on TVs last night. Why would many colleagues be this morning crowding that Indian Raj's offices at Raja Chambers to borrow the Shs20m which the Clerk to Parliament has actually guaranteed if we indeed had that Shs40m? Which sort of fools could we be as NRM MPs to go on provoking the public sharing Shs40m when we saw the resentment mere Shs20m caused? Where is the logic and common sense in all these allegations?"
Parliamentary Journalists Share Shs50M
Like we have already indicated above, some shrewd MPs decided to wet the scribes' beaks with over Shs50m so as to mobilize their colleagues not to prominently publicize the Shs40m scandal.
The revelation came to light after a series of leaked WhatsApp chats from the Uganda Parliamentary Press Association (UPPA) group led by Vision Group's Moses Mulondo indicated that some journalists had received their shares while others were waiting in vain.
Word has it that on the same Thursday night that MPs picked the Shs40m, scribes under UPPA received messages from their leaders saying thus; "We have lobbied for you some money to go through this period but the requirement is that we strictly share it in total silence. No talking. No writing about it."
It is said that whoever assented to the instructions received mobile money on Friday afternoon and some continued receiving theirs as late as Saturday afternoon.
Spies reveal that after receiving their share, journalist would confirm receipt by posting; "thanks received" on a WhatsApp group called 'Press Plenary', which is administered by Nakasi Racheal.
Apart from Nakasi, the other WhatsApp group administrators include Moses Mulondo, and a one Nsubuga.
Another scribe who was instrumental in sharing among UPPA members is Prince Tusiime Apollo, an scribe working with Pastor Joseph Serwadda's Dream Media.
However, trouble started when some journalists who had been promised the dime that ranged between Shs100-200k failed to receive their share and started grumbling, which led to the exposure of those that had shared in the 'loot'.
Some even threatened to protest by quitting UPPA to start up their own Association after citing lack of transparency in Mulondo's camp.
Others are wondering why Herbert Zziwa went ahead to prominently file the Sekikuubo story for his NTV yet he knew that UPPA, on whose executive he sits, had reached some understanding to deny the alleged Shs40m story the anticipated prominence. Some have even started up a campaign to throw him out of UPPA for allegedly 'betraying' them by reporting about the Shs40m.
UPPA Speaks Out
Meanwhile, UPPA, has through its leader Moses Mulondom issued a statement denying allegations that they were 'bribed' to keep silent about the whole saga.
Mulondo's statement, titled CLARIFICATION ON CLAIMS THAT PARLIAMENTARY JOURNALISTS HAVE BEEN BRIBED', issued on Saturday reads in part thus;
There are ongoing social media reports that Parliament Journalists have been bribed not to write about the Shs40m reportedly given to each MP who supported the lifting of Presidential Term Limits.
The reports even indicate that we have asked our members not to write about the story.
Those stories are fake, unfounded and lack any aorta of truth. We have not received any bribe and we have not asked anyone anywhere not to wrote about the story of Shs40m.
Actually, yesterday, the story ran on several media and it was reported by Parlaiment Journalists.
The fact is that about three weeks ago, the Uganda Parliamentary Association (UPPA) wrote to the Parliament department of Communication and Public Affairs to raise some funds as part of the corporate social responsibility to give some relief to UPPA members, majority of whom are no longer working……."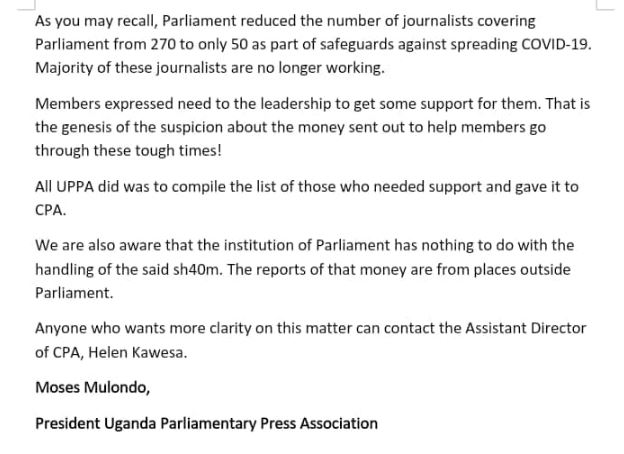 However, by the time of filing this story Parliament had not yet issued a statement about the matter and allegations of MPs sharing Shs40m each.