By Spy Uganda
Tooro Province has petitioned Fufa Drum Tournament leadership over the recently concluded game that saw Lango through to the finals.
The game played on 18th December at Akii Bua Stadium in Lira was won by Lango against Tooro after a controversial penalty awarded in the 42nd minute of the game.
"Whereas we appreciate that in the game of football only one team is supposed to win the game between two teams during the encounter it should be only in a manner that is fair and just which was not the case during the game and we are here to defy and contest the unfortunate results of the game," says Tooro in a petition dated 20th December 2021.
The petitioners say that the referee Vincent Kavuma's penalty to Lango province was unfair and such kind of officiation hinders the progress of football in the country.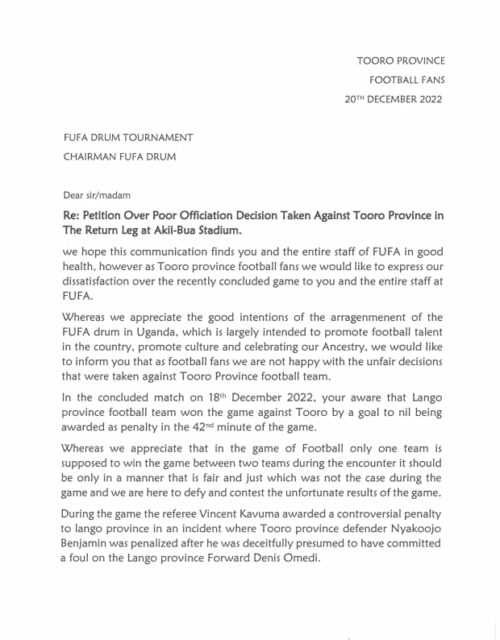 "During the game, the referee Vincent Kavuma awarded a controversial penalty to Lango province in an incident where Tooro province defender Nyakoojo Benjamin was penalized after he was deceitfully presumed to have committed a foul on the Lango province Forward Denis Omedi," adds the petition.
The petitioners have now threatened to boycott future competitions if Fufa doesn't cancel Lango's win and declare a rematch.
''Our position as Tooro province fans is that failure to adhere to the conditions put here under, we will not be part of any FUFA drum tournament competitions in our province in the next editions because we believe that with such kind of officiation," says Tooro adding;
"It makes stakeholders, sponsors institutions, like schools, religious leaders and many more lose interest in Football and hence killing the passion of the game."
Joram Bintananya, a former Fort Portal district councilor and one of the leading Tooro fans, told our reporter that, as Tooro they're tied in to being cheated in silence.
"The people are taking our silence and hospitality for granted. Apart from giving a false penalty, the Lango player even kicked the penalty before the referee had whistled to our keeper, the reason you realize he was caught off guard and immediately he went to complain. And the referee still okayed it. An impartial referee would have ordered a repeat of the penalty because to kick the ball, you must wait for the whistle. They've been fixing wins for their favorite teams. You see, we know that they fix wins for Lango and West Nile provinces because of gate collections. They collect more money that side (in hundreds of millions) more than this side, so they would want those provinces to remain making for them money," Joram told our reporter on Wednesday.
Our efforts to get a comment from FUFA leadership through President Moses Magogo and Spokesperson Hussein Bogere proved futile as both couldn't respond to our WhatsApp request.
Meanwhile, Lango's game with Tooro was the semi-final. If it remains the way it's now, it means Lango and West Nile went through to the finals whose date is yet to be known.