By Spy Uganda 
Parliament: National Association of Broadcasters (NAB) members have this morning interfaced with members of the parliamentary committee on ICT to find long term solutions to problems stunting the growth of the fourth estate.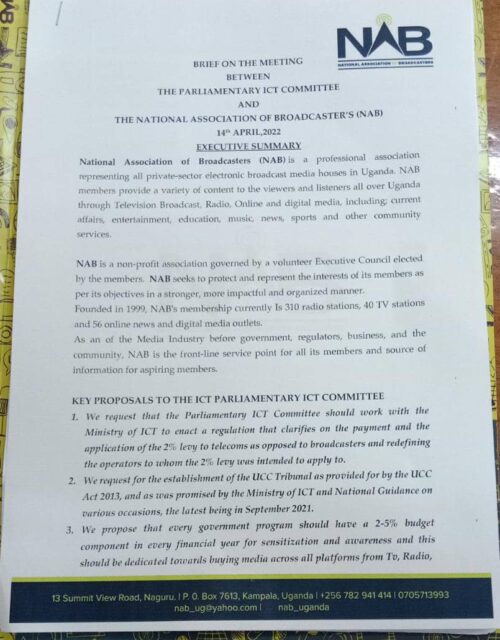 According to Spy Uganda CEO and NAB executive member representing the online constituency, Andrew Irumba, NAB executive led by its chairman Kin Kariisa, also CEO Next media Services,  informed parliament that Uganda Communications Commission (UCC) is a lone lion in the jungle whose might needs to be tamed by an arbitrator between the vulnerable media owners and the powerful regulator.
"The tribunal has been in paperwork for over 10yrs but has never been implemented. UCC is so powerful,so when they mishandle their client, instead of going straight to court, which is also hard, because they're the ones who gives you licence, the makers of the UCC act thought it wise that there is an arbitor who can sit down the two parties and sort out the matter. When they fail to agree then they can proceed to count. But Mr Chairman, this has never been done," submitted Kin.
Also, among the key issues NAB wants to be addressed, include the protection of journalists and those violating their rights be held accountable.
"We urge this committee to further emphasize the need for the authorities to respect the rights of Media personnel as they carry out their mandate. Respecting Human rights is important for everyone. Our people need to feel safe and protected while on duty. Should the authorities have concerns, it is important, civil and prudent that they approach the media houses considering that they are all duly registered under the law with known addresses. There have been many examples of these continuous violations and yet, we have held numerous engagements and even held events like friendly football matches to mark new beginnings," NAB chairman Kin Kariisa told the committee.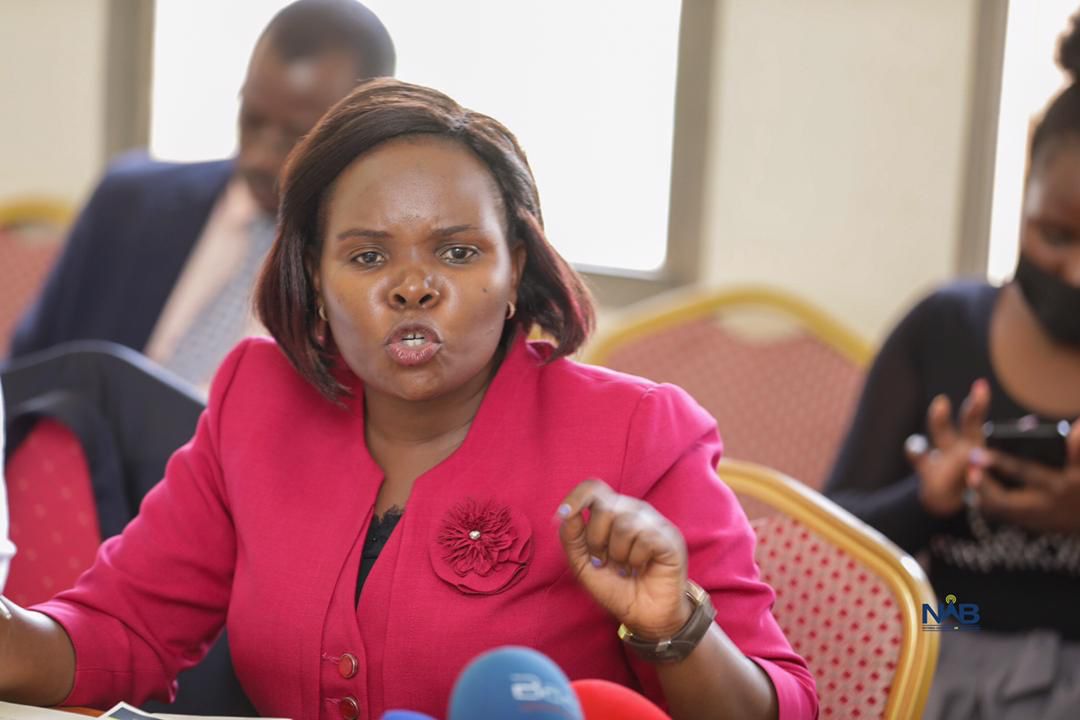 On the same matter of brutality against journalists, the committee was informed that recently in January 2022, a number of Journalists including Edward Kisekka and Samalie Kisakye of NBS television and other journalists from Bukedde, etc, were brutally assaulted while covering a police officer who was extorting money from boda boda cyclists during COVID-19 lockdown.
Chairman Kariisa on behalf of NAB members also asked the government to fund signet to enable them do their mandate of carrying free to air channels across the country.
Kin was however quick to add that signet needs to be saved from Uganda Broadcasting Corporation (UBC) and be made an independent entity.
"Signet's monthly charges for signal distribution are high yet the signal distributor is a government entity and we still face service challenges. We propose that Signet should reduce its fees," NAB told the committee adding; "In light of the challenges that the media industry faces with Signet services, we wrote to them in May 2021 requesting to meet them to review the terms of engagement for all these years and to discuss value for money for services rendered but thus far we have not received any response. We request for a permanent solution to address the challenges arising from the Signet services."
Online Media Challenges
President Independent Online Journalists Association (indoja-u), Andrew Irumba Katusabe urged the committee to push government to unlock Facebook so they can work well online. Irumba said president Museveni said he switched off Facebook during political session because Ugandans were using it to peddle lies,but now that elections were way behind us, Facebook needed to be opened up for business,he said. "We work online,we pay taxes but Facebook helps us to propel our businesses further. Let it be opened up," said Irumba.
In response to the above requests, the Chairperson of the committee Hon.Moses Magogo assured NAB that:
1- His committee report would recommend for total open up of Facebook now that elections ended.
2- Crocodiles eating mobile data, a direct effect to mostly only media. The committee will recommend that parliament engages telecoms and UCC to have the matter settled.
3-Online media should be considered as a genuine medium of communication like any other media and therefore should be considered for appropriation of funding like Government does for other means of communication.
Magogo however raised the issue of unprofessionalism in media to which Irumba responded thus: " Mr Chairman, Police is 116 yrs old having been established by the British administration in 1906. But are they still making grave mistakes that even claim lives? the answer is yes. Online media in Uganda is less than 7yrs old, there are mistakes, but we're working on them, that's why we created an association (indoja-u) to start regulating ourselves even before UCC comes in".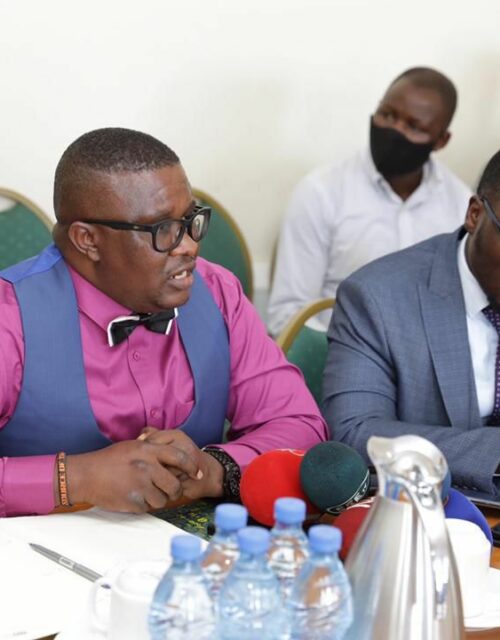 A committee member, also Buhweju MP Francis Mwijukye tasked members of NAB to explain why one of their members received Kizza Besigye and Bobi Wine's money and refused to host them, nor refund their money. "Don't you as NAB members have ethical conduct? Even when court awarded Besigye his money, this media house refused to pay him," Mwijukye said, something NAB promised to investigate.
Meanwhile, at the conclusion of the meeting, the Committee promised that all those issues will be part of their report to parliament.