By Andrew Irumba
Arinaitwe Rugyendo is Managing Director & Co Founder at e2 Young Engineers-Uganda
He has worked for over 18 years as a journalist and media entrepreneur in Uganda. He has consistently worked to spur young entrepreneurship, leadership and social transformation in the country for which he has won numerous awards.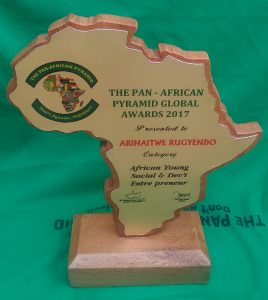 A Desmond Tutu leadership program Fellow, and a CransMontana Forum that grooms 'New Leader of Tomorrow,' Rugyendo has set out on a  long journey to nurture Uganda's next generation of scientists, entrepreneurs and innovators through promotion  of Science, Technology, Engineering and Mathematics (STEM) concepts among school going children in Uganda.
Rugyendo believes that;Uganda is in the midst of a journey towards a middle income status.
"No country in the world has reached this stage without emphasis on Science and Technology. For this to happen in Uganda and Africa, we need our young people to see technology and related applied sciences as a future not which they might just benefit from but which they can help create. If today's children are equipped with the right skills, if they have the right networks, if they have the right attitude, Uganda's youth unemployment crisis that stands at 83% will go down in two decades from now. We have to make sure we equip every child in Uganda and the region with STEM skills to be relevant in future, a future that is dotted with the digital revolution requiring skills in science and technology"
In 2012, Rugyendo was awarded the prestigious Archbishop Desmond Tutu Leadership Fellowship of the African Leadership Institute which is jointly run by University of Stellenboch in South Africa and University of Oxford in UK.
In 2013, Rugyendo was awarded another prestigious Fellowship- The Crans Montana Forum, a network of world political, social and business leaders committed to a more balanced and humane world. He picked his award in Geneva in 2015.
At the age of 23, Rugyendo became the 1st youngest private media owner in Uganda when he and other 4 colleagues of his namely Richard Tusiime, Johnson Musinguzi,James Mujuni and Patrick Mugumya founded The Pepper Publication Ltd commonly known as RedPepper 17 yrs ago.
Redpepper has given birth to other newspapers like Kamunye,Entatsi,Hello UG and a radio station-Juice Fm.
Rugyendo is also director to C.E.O Business Magazine among other investments in town.
Growing up a needy child literally living a refugee life-like,Rugyendo picked a lot of lessons from his only mother who was a teacher but with no permanent homestead because she had no land.
During holidays,Rugyendo worked as a gardener at prof.Oswald Ndolerire's farms on Hoima road and waiter at Makindye based Calendar Hotel to raise his school fees.