By Spy Uganda 
Kampala: The Kenyan government has suspended the importation of maize from Uganda and Tanzania over poor standards.
According to  a statement released on Friday 5, 2021by Kello Harsama, Kenya's Director-General of Agriculture and Food Authority directed Commissioner of Customs, Pamela Ahago to stop "any further imports of the maize into Kenya with immediate effect."
This comes days after President Uhuru Kenyatta took over as Chairmanship of East African Community (EAC) and vowed to strengthen cross-border trade and regional integration.
Kello noted that the authority has been conducting surveillance on the safety of food imports to Kenya and that test results "for maize imported from Uganda and Tanzania have revealed high levels of mycotoxins that are consistently beyond safety limits."
He said "mycotoxins, particularly aflatoxins and fumonisins are known to be carcinogenic. Over the years a number of acute and chronic aflatoxin-related illnesses have been recorded in Kenya including deaths."
It's worth noting that  Kenya this week went further to suspend importation of frozen chicken carcasses and cuts and chicken table eggs for human consumption,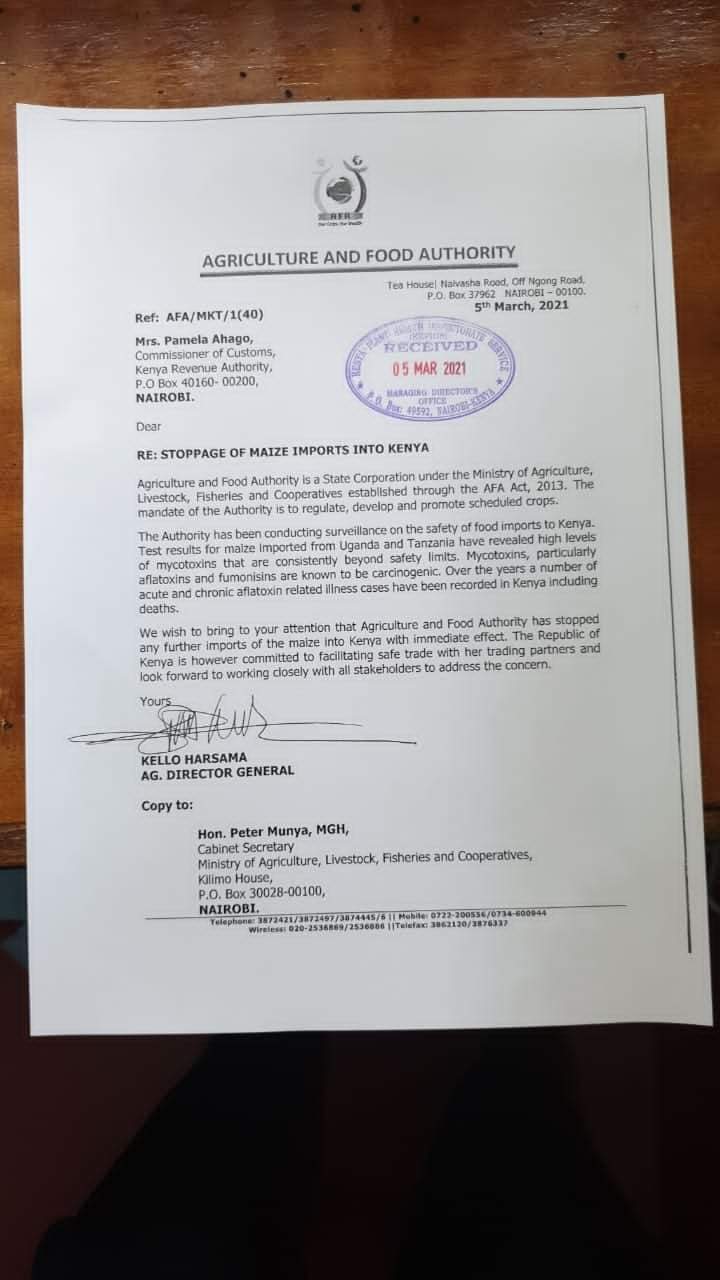 Kenya said this was meant to "support local producers to recover from trade disruptions in their livestock enterprises occasioned by the COVID-19 pandemic."
Ugandan traders last year blamed authorities in Nairobi for blocking their products from accessing the Kenyan market on flimsy grounds and in contravention of the East African Common Market commitments that guarantee the free movement of goods and services with the East African Community trading bloc.
This development comes at the time Uganda continues to develop the capacity to manufacture and process goods that were originally being imported from Kenya, with the help of various favorable policies such as the Buy Uganda Build Uganda policy and the Reservations and Preference Schemes under the PPDA Act.
However, the Kenyan government has on many occasions said products from Uganda are counterfeit yet bares Q mark issued Uganda National Bureau of Standards, an allegation that Ugandan manufacturers have vehemently denied.
Traders are now wondering how the Ugandan leadership can stand and watch the decimation of the agriculture sector by Kenya's protectionist policies.
Kenya has, in some instances, instituted permits that water down the very essence of the EAC Common Market through unilateral restrictions against Uganda originating goods.
Furthermore, Kenya has also been accused of institutionalizing harassment of its traders dealing in Ugandan manufactured products with the view to discourage dealing in Ugandan products especially poultry, milk, and sugar.
In 2017, Kenya imposed a ban on poultry products from Uganda to "control the viral influenza disease".
This ban was lifted in 2019 after President Museveni held talks with his Kenyan counterpart, Uhuru Kenyatta, and the situation was stabilized.