By our reporter
President Yoweri Museveni has asked for incriminating evidence implicating officials under Operation Wealth Creation (OWC) headed by his young brother Gen.Salim Saleh, who reportedly supplied unproductive cattle breeds to farmers such that he can deal with them.
Mr Museveni said that such people deserve to be in jail for failing a well-thought government program aimed at fighting poverty among citizens.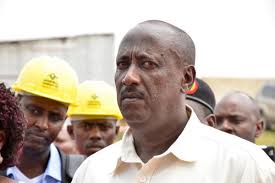 The president made the remarks on Friday while addressing residents of Kaswa Village, Lwengo District where he launched a piped water project and commissioned a Rural Women Micro Finance Limited (RWMFL) in Kinoni Town along Masaka-Mbarara highway.
Mr Museveni learnt that some beneficiaries of OWC are given cows for beef instead of those that can produce milk.
"Mbabaali told me that the OWC officials supplied in this area cows for beef yet they are supposed to be supplying dairy cattle that can bring in profits within the shortest time," he said, before ordering the district OWC coordinator, Mr Hassan Ssamba to come forward and defend himself on the matter.
While responding to the president, Mr Ssamba said the unproductive cattle talked about, are identified by suppliers and soldiers simply distribute them to farmers.
"Our role as soldiers is supplying what has been given to us by the technocrats at the NAADS headquarters," he said.
Mr Museveni responded that: "Let us arrest them [Naads officials], I am going to arrest them, I need evidence, we are tired of those people."
President Museveni started OWC in 2013 with the aim of ensuring effective national social-economic transformation with the focus on raising household incomes to eradicate.
The programme has, however, been characterised by delivery of poor quality inputs, late delivery of inputs, weak farmer groups, absence of well-equipped logistics hubs and inflation, which have hampered the efforts to reduce poverty.
The Operation Wealth creation (OWC) is headed by Gen. Salim Saleh who is also young brother to president Museveni.
Recently however, Gen.Saleh said the programme was messed up at its initiation when the soldiers implementing it applied military methods to handle civilians.