By Spy Uganda 
Although tycoon Hamis Kiggundu lawyer Fred Muwema had last week, Friday 9th June 2023 served court electronically (which is also admissible), but considering the 'terrain and the ugly twist the matter has taken, our ever alert spy planted at Muwema's chambers has eavesdropped that the lawyer decided to back it up with a physical copy which was duly stamped.
"Owaye, when you're a fish and you learn that you're swimming in dirty waters and that you have no power to change it, the only sensible thing for you to do is to learn how to swim in it," Muwema was heard saying as he sent his clerk to have a physical copy returned.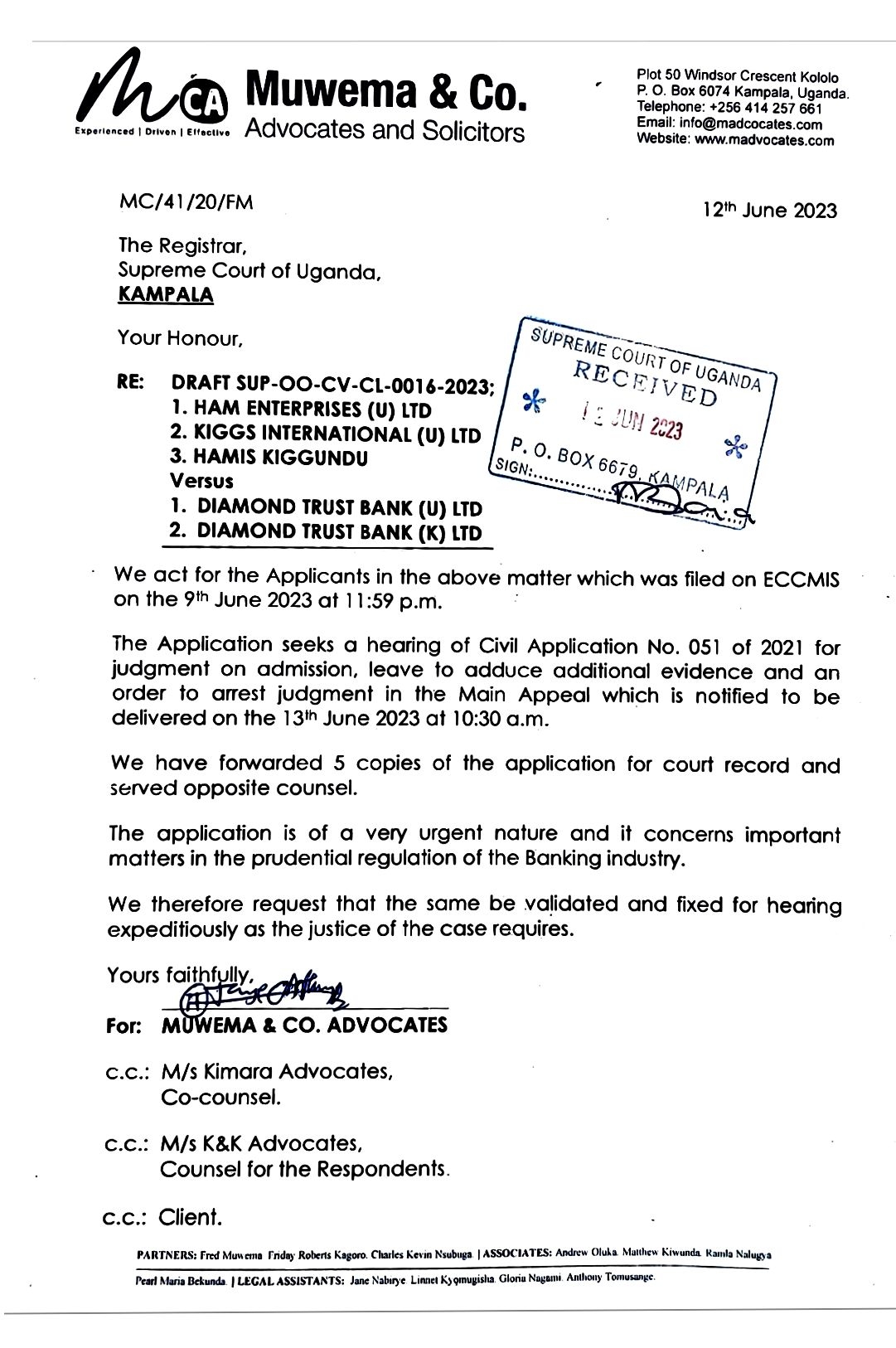 Kiggundu's application seeks to arrest (stop) the judgement that had been fixed for delivery on June 13th 2023, such that Kiggundu and his two companies be granted leave to adduce additional evidence from the central bank of Kenya to elucidate and substantiate the illegality committed by the DTB Kenya in respect of the disputed credit transactions between the two parties, which is the main issue of appeal.
The pending judgment in the Supreme Court stems from a series of legal proceedings initiated by businessman Kiggundu against Diamond Trust Bank (DTB) Uganda and DTB Kenya. The case originated from a syndicated banking agreement between Ham Enterprises Limited and Kiggs International Limited, and the two banks.
In October 2020, Commercial Court Judge Henry Peter Adonyo ruled in favor of Kiggundu, ordering DTB Uganda to refund Ugx120b funds deducted from his accounts.
According to a figurative and legal audit on all Ham's accounts, Ham paid all DTB loans and instead, the Bank had excessively unlawfully debited Ugx 34bn and USD 23m from the company's accounts over that spread period of time and below is the evidence.